Seakeeper Gyro for Unmanned Ultra-Lightweight Boat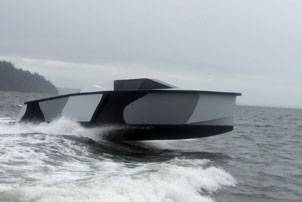 Zyvex Technologies claims that its Piranha USV (unmanned surface vessel) is the largest boat of its kind built from nano-enhanced materials. Constructed entirely of Arovex, a nanotube-reinforced carbon fiber, the 54-ft boat weighs only 8,000 lbs. and can carry up to 15,000 lbs. more than 2,500 miles. To stabilize the vessel, Zyvex selected a Seakeeper Gyro Stabilization System.

"Stability is especially important on a vessel intended for unmanned operations," said Zyvex director of defense applications Mike Nemeth. "The Piranha is so lightweight that the Seakeeper's impact on the stability is amplified. Since we were able to develop the Piranha from a clean sheet design perspective, we had the opportunity to incorporate the latest systems without compromising other requirements."

The Piranha USV is designed to perform a wide range of applications, such as surface surveillance, antipiracy, search and rescue, submarine warfare, mine countermeasures and harbor patrol

"The Seakeeper has exceeded expectations during the initial sea trials," said Nemeth. "We've already faced sea state 4 conditions in the Pacific near Seattle and expect to find rougher seas as the weather worsens."