Ultra-Low Wake Ferry Gets Green Light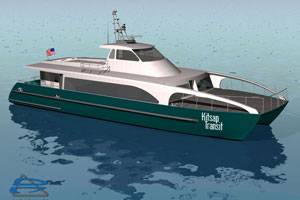 All American Marine, Inc. and Teknicraft Design, Ltd. have successfully made a proposal to Kitsap Transit to bring a new passenger ferry to Rich Passage. On Tuesday, April 21st, the commissioners of Kitsap Transit unanimously approved $5.3m for the purchase of a 77 ft ultra-low wake Teknicraft catamaran and on May 18th, All American Marine received the signed notice-to-proceed. The high speed passenger catamaran will carry 118 passengers and operate between Bremerton and Seattle, Washington at speeds of 29 to 38 knots.

The new vessel technology is the culmination of efforts having taken place over the past five years and the stakeholders involved span the globe. Kitsap Transit has been searching for an economically feasible solution to bring fast and environmentally safe passenger only ferry service back to the Kitsap Peninsula since Washington State Ferries was forced to terminate their service in 2003. Through a series of federally funded wake wash studies, it became evident that the wake signature of a hydrofoil-assisted Teknicraft Design catamaran produced the least amount of wake wash energy within its tested vessel class.

Kitsap Transit contracted with Pacific International Engineering of Edmonds, WA to spearhead the ongoing research efforts in conjunction with All American Marine and Teknicraft Design to further enhance and optimize the vessel's design. Teknicraft Design principal naval architect, Nic de Waal, of Auckland, New Zealand worked with hydrodynamicists from the University of Iowa's IIHR-Hydroscience and Engineering Research Center as well as naval architects from INSEAN in Rome, Italy to model an ultra-low wake hull. Coastal specialists from Golder Associates of Redmond, WA also evaluated the proposed vessel's performance in terms of wake generation and resistance. The vessel optimization study utilized Computational Fluid Dynamics (CFD) techniques to help refine the shape of the hull and hydrofoil to produce lower wake heights with less wake energy.

"Our hydrofoil supported hull has been developed and refined over the last decade to become a leader in catamaran technology," stated de Waal. "With the additional benefit of sophisticated and intensive CFD modeling over recent periods, we now have one of the most advanced and environmentally friendly hulls in terms of the combination of low wake, high speed, and low fuel consumption."

Beginning in June, AAM will construct the passenger ferry by combining an aluminum catamaran hull with a light weight composite cabin. Using composites will be a first for the company which has been building aluminum vessels for over 20 years. The latest composite technology will be used to create high strength structures at a lower weight than that of an aluminum equivalent. Composites also possess superior sound and insulation properties. AAM will outsource all composite components initially. In conjunction with Bellingham's Marine Innovation Zone program, AAM and Western Washington University will create the vessel's adjustable hydrofoil system using composites. JBE in Anacortes, Washington will provide composite panels to be bonded together to form the passenger cabin and pilot house.

All American Marine will fabricate the Teknicraft Design aluminum catamaran hull using 5383 Sealium aluminum alloy. Welded 5383 alloys are nearly 20% stronger than conventional marine grade aluminum with similar plate thickness. Using stronger aluminum will require less material to be used, thereby decreasing overall weight. Minimizing weight is a critical factor for controlling wake wash height and energy. The copyrighted hull design's premise is to create lift for the vessel by means of the hull shape and hydrofoil working together to displace nearly one-half of the vessel's weight. The net result is reduced resistance, reduced fuel consumption, reduced wake, and increased speed.

The vessel's purchase price is reflective of the state-of-the-art onboard technology, which will pay dividends in terms of providing an eco-friendly ferry service. Most noticeably, the hydrofoil system and wake mitigating interceptors will be adjustable and controlled by GPS, automatically making adjustments so the vessel will produce the lowest wake energy in the most sensitive coastal areas. The adjustable hydrofoil can also be manipulated intentionally to make minor adjustments to optimize speed without increasing engine rpm or fuel consumption. The adjustable foil is highly beneficial for commuter ferry applications where the passenger load may be heavier in one direction than the other.

Golder Associates will supply a specialized monitoring system for the hull and hydrofoil, providing detailed performance data for continued research purposes. Additional green features are included in the vessel's propulsion system consisting of four Caterpillar C18 ACERT engines, which will be fit with specialized CleanAIR Permit filters to reduce harmful emissions by up to 99%. Noise pollution will be mitigated with acoustic foam insulation and composite sandwich decking material. The cabin interior will be finished with recyclable aluminum honeycomb wall panels and recyclable aluminum ceiling panels with acoustic insulation. The finished vessel will be coated with a low VOC paint system. Other amenities include ADA-friendly heads, comfortable Beurteaux seating, and bicycle storage racks to encourage as many commuters as possible.

The new passenger ferry is scheduled to be completed and delivered by March 2010. Funding for the vessel construction, research, and initial demonstration run was in part secured through several federal grants and appropriations. Senator Patty Murray and Congressman Norm Dicks both sponsored bills to fund the project and look forward to Washington setting a new standard for environmentally friendly passenger ferry service.