Cooperation Key Among Maritime Universities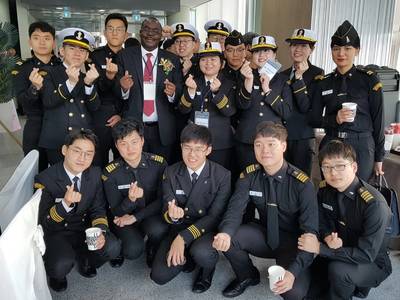 Cooperation between academic institutions is key in ensuring the next generation of maritime professionals is well prepared.
In this spirit,
International Maritime Organization
(IMO)'s Juvenal Shiundu delivered a keynote address at the opening ceremony of the International seminar on mutual cooperation between IMO,
World Maritime University
(WMU) and Korea Maritime and Ocean University (KMOU) in Busan, Republic of Korea (11 November).
In front of a full audience, Shiundu reiterated the crucial role played by IMO's technical cooperation work in enhancing the capacities of many developing countries and producing maritime leaders through the many global training institutions, such as the World Maritime University and the International Maritime Law Institute, and ultimately helping to implement IMO instruments worldwide.
Students also heard about the Sustainable Development Goals (SDGs) and how they offer both opportunities and challenges which IMO, WMU and KMOU are keen to explore as an area of potential collaboration for maritime research and education.