Ursa Montana: Big Beam, Big Power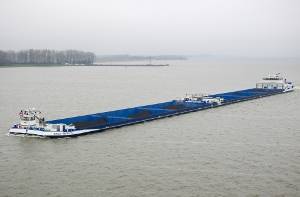 On many of Europes inland waterways, the limit to cargo capacity is not so much about horsepower but it is the limit imposed on the vessel by the size of the locks that it has to transit. With the largest vessels, along with their additional barges, designed to maximize available space in the locks it is necessary to get the unit into the lock and stopped up without damage to the lock or vessel as promptly as possible. On the Mains-Danube system, regulations limit vessel size to 190 by 11.45 meters. To achieve this maximum, most operators start with a powered 110-meter vessel that includes family accommodations aft as well as a small focsle forward for a crew member and just forward of that a bow thruster space. To this is typically added a barge, secured to the bow of the mother vessel, with the same 11.45-meter beam and its own bow thruster.

In 2009 the Dutch shipyard of Progress Shipbuilding finished and delivered the Ursa Montana, a tank ship of 342.8 ft by 56.7 ft on the beam. At the same time they built a barge that is 311.6 ft by 56.7 ft. With the two secured to each other the total length, allowing for a 23-ft barge notch, is 631.5-ft. The total carrying capacity is 10,500 barrels and the total installed horsepower is 5016 kW (6,727 hp).

While the above dimensions preclude the vessels passage through the narrower locks on the Mains-Danube system, the big combination can operate on over 497 miles of the Rhine. As far up as Strasburg France, 435 miles inland, the free flowing Rhine is unimpeded by locks. Locks between there and Basel Switzerland are a generous 82-ft wide. With a beam just over 55.7 ft the Ursa Montana fits easily into these and similar locks. When the two vessels combined length is too long for a lock, the barge and ship are decoupled.

Utilizing the thrusters, one of which is a drop-down azimuthing HRP, for propulsion and steerage, the barge can then enter the lock on its own power. The barge section is navigated from a small wheelhouse located forward. The main vessel can then transit the lock on its own and rejoin the barge above or below the lock.

To perform these aquatic maneuvers requires five 412 kW (560 hp) Cummins QSX15-C thruster engines and two 1342 kW (1800 hp) QSK50 main engines. In addition to these seven engines, four 68 kW (91 hp) QSB5-powered 85 kVa generators provide electrical power to the combination of two vessels.