U.S. East Coast Ports Await Yet Another Storm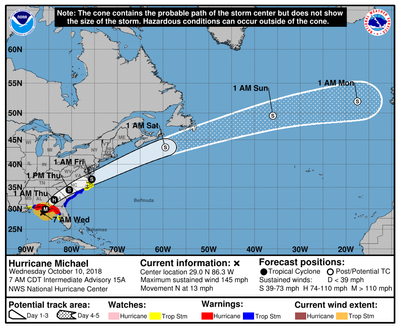 Hurricane Michael, now a Category 4 storm, will be the second hurricane in two months to significantly affect ports on the U.S. eastern seaboard. Eastern North Carolina in particular is only now recovering from Florence.
The U.S. Coast Guard has set conditions X-Ray for ports in Georgia and South Carolina in preparation for Hurricane Michael. The storm is now expected to make landfall by Wednesday afternoon. While gale force winds are expected within the next 48 hours, these ports can remain open to commercial traffic. Separately, the Port of Penascola, Florida, in the direct path of the storm, has been ordered temporarily closed under condition Zulu.
Elsewhere, the U.S. Coast Guard set port condition 'Whiskey' for ports of Wilmington and Morehead City, NC ahead of the storm's expected arrival. Both ports are currently open to all commercial traffic and all transfer operations may continue while Whiskey remains in effect. The Coast Guard also advised all ocean-going commercial vessels and ocean-going barges greater than 500 gross tons to make plans for departing North Carolina Ports. Vessels desiring to remain in port must immediately contact the COTP to receive permission and are required to submit a safe mooring plan in writing.
Now upgraded to category 4 and described as extremely dangerous and life threatening by the National Hurricane Center, the hurricane warning now stretches from the Alabama/Florida border to Suwannee River Florida.
At 700 AM CDT (1200 UTC), the eye of Hurricane Michael was located near latitude 29.0 North, longitude 86.3 West. Michael is moving toward the north near 13 mph (20 km/h). A turn toward the north-northeast is expected later this morning, with a turn toward the northeast expected this afternoon or tonight. A motion toward the northeast at a faster forward speed is forecast on Thursday and Friday.
On the forecast track, the eye of Michael is expected to move ashore over the Florida Panhandle later today, move northeastward across the southeastern United States tonight and Thursday, and then move off the Mid-Atlantic coast away from the United States on Friday.
Reports from an Air Force Reserve Hurricane Hunter aircraft indicate that maximum sustained winds have increased to near 145 mph (230 km/h) with higher gusts. Michael is an extremely dangerous category 4 hurricane on the Saffir-Simpson Hurricane Wind Scale. Some additional strengthening is possible before landfall. After landfall, Michael should weaken as it crosses the southeastern United States.
Thousands of local residents in Wakulla, Gulf and Bay counties have been ordered to leave. The storm is now the strongest to threaten this area in at least a decade. In advance of the storm's arrival, Florida Governor Rick Scott declared a state of emergency in 35 counties. National Guard soldiers were already helping to prepare in the area, with as many as 4,000 troops on standby.
Reuters reported on Wednesday morning that some of the storm's most significant early impact was to offshore energy production. U.S. producers in the Gulf cut oil production by about 40 percent and natural gas output by 28 percent on Tuesday, the Bureau of Safety and Environmental Enforcement said. As early as Monday, oil producers had halted nearly a fifth of Gulf of Mexico oil production and, by Monday, had begun evacuated some offshore personnel from platforms in the storm's potential path.
President Donald Trump declared a state of emergency for the entire state of Florida, freeing up federal assistance to supplement state and local disaster responses.