US Monitoring Russian 'Intelligence Gathering Ship' Near Hawaii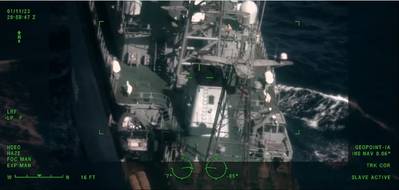 The United States in recent weeks has been tracking what is believed to be a Russian military spy ship off the coast of the Hawaiian Islands.
The U.S. Coast Guard said in an update on Thursday that it has been keeping tabs on the vessel, a suspected "intelligence gathering ship", for several weeks. Video footage released by the agency showed the ship in waters off the Hawaiian coast on January 11.
The ship has been identified as the Kareliya (SSV-535), a Vishnya-class intelligence ship used by the Russian Navy for signals intelligence gathering. Naval experts say the ship has often been seen operating in Hawaiian waters.
"The U.S. Coast Guard is currently monitoring the Russian vessel operating in the vicinity of Hawaii," said Cmdr. Dave Milne, chief of External Affairs. "As part of our daily operations, we track all vessels in the Pacific area through surface and air assets and joint agency capabilities. The Coast Guard operates in accordance with international laws of the sea to ensure all nations can do the same without fear or contest. This is especially critical to secure freedom of movement and navigation throughout the Blue Pacific."
The Coast Guard, which said it often observes other foreign-flagged military vessels operating and loitering within Coast Guard District Fourteen's area of response, said it "continues to coordinate with Department of Defense partners, providing updates to foreign vessel movements and activities and to appropriately meet presence with presence to encourage international maritime norms."
Last September, the Coast Guard's Honolulu-based Legend-class cutter Kimball (WMSL 756) came across four Russian naval vessels and three Chinese ships during a routine patrol in the Bering Sea near Alaska.