USCG Commandant Visits Austal USA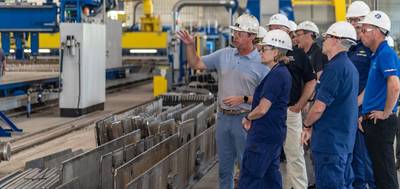 Admiral Linda Fagan, U.S. Coast Guard Commandant, visited Austal USA Thursday to tour the Mobile, Ala. shipyard's manufacturing facilities and discuss the company's contract for the service's Heritage-class Offshore Patrol Cutter (OPC).
Austal USA said in a press release its leadership briefed the Commandant on the company's steel shipbuilding production line. The 117,000 square foot steel panel line, where OPC construction will begin in mid-2024, houses state-of-the-art computerized and robotic steel processing equipment to handle the current and future demands of the U.S. Coast Guard and U.S. Navy. The builder currently has eight ships from five different programs under construction.
"We were honored to escort Admiral Fagan through our facility today displaying the efforts of our talented workforce," said Austal USA president Rusty Murdaugh. "We are excited about our growing partnership with the Coast Guard as we move into production of the OPC. Admiral Fagan's visit was a great opportunity to demonstrate how the combination of a dedicated, talented workforce and a state-of-the-art facility have resulted in our success, building and delivering ship after ship on-time and on-budget."
The U.S. Coast Guard plans to spend over $12 billion to acquire 25 Offshore Patrol Cutters—ships that conduct search and rescue operations, among other missions.
Earlier this week, the U.S. Government Accountability Office said the Coast Guard is at risk of falling behind on its OPC cost, schedule and performance goals due to a "risky approach" of constructing the ships before the design and technology are ready.