British Warship Back to Sea After US$32.5-million Refit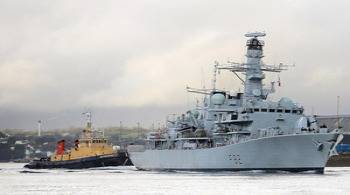 Royal Navy Type 23 frigate 'HMS Somerset' returns to sea for the first time in 9 months following an extensive modernization.

The Type 23 frigate has a new lease of life as one of the most advanced fighting ships in the fleet due following docking and upgrade in her home port, Devonport Naval Base, in partnership with Babcock Marine.

The warship's fighting capability is now among the most advanced in the world, while the living arrangements and main machinery have been improved and overhauled.

Enhancements to the ship's Seawolf missile system, installation of an advanced electronic communications system, and significant improvements to operations room functions have made HMS Somerset more versatile and agile. In addition, substantial galley improvements will make life at sea more comfortable for the 185 sailors aboard.

HMS Somerset's commanding officer, Commander Mike Smith, said:
"I am incredibly proud to be taking HMS Somerset back to sea after what has been a highly productive upgrade. The ship now has increased capability to meet the needs of an adaptable Royal Navy and is ready to return to the active fleet."