USS New York Passes Trials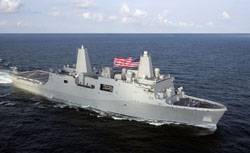 The future USS New York (LPD 21) was put to sea for the first time June 27, transiting down the Mississippi River to conduct Builder's Trials. The ship's name and motto, "Never Forget," honor the victims and first responders of the Sept. 11, 2001 World Trade Center attacks. Constructed in Avondale, La., the ship contains 24 tons of steel salvaged from the World Trade Center within the 311-ton bow unit.
During the four-day trial, Northrop Grumman Shipbuilding conducted comprehensive tests intended to demonstrate the performance of the combat and communication systems, propulsion plant, ship handling, damage control capabilities, and auxiliary systems. Major events included full-power demonstrations during ahead and astern maneuvers, main ballasting, steering drills and combat system evolutions. The ship is expected to conduct Acceptance Trials in July, followed by delivery to the Navy later this summer. The ship is scheduled for commissioning in November 2009, and her homeport will be Norfolk, Va.