USS San Antonio Deck Puts New Assets to Work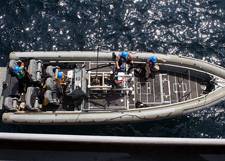 While deployed in support of maritime security operations (MSO), the amphibious transport dock ship USS San Antonio's (LPD 17) Deck Department is using new technology and assets that impacts daily shipboard operations.
One of these features is 's complement of three -- rather than two -- ridged-hull inflatable boats (RHIB) at their disposal. Maritime security operations in the 5th area of responsibility place a demand on small boat operations. Deploying RHIBs in the water has become more efficient due to the articulating knuckle boom crane.
is deployed to the 5th Fleet area of operations as part of the Iwo Jima Expeditionary Strike Group to conduct MSO.