Collins Engineers Donates ROV to UW-Milwaukee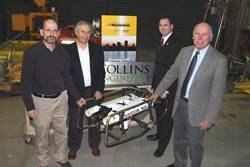 With the goal of enriching students' educational experiences and enhancing the research capabilities of marine scientists on the Great Lakes, Collins Engineers, Inc. (Collins) has donated a Phantom-300 remotely operated vehicle (ROV) to the University of Wisconsin—Milwaukee School of Freshwater Science (SFS), located at the Great Lakes WATER Institute.
The cost of a similar ROV purchased new would range between $25,000 and $35,000. "The SFS offers interdisciplinary graduate-level training and provides a variety of marine research opportunities, as well as fosters partnerships in international water-related projects so we are very excited by this donation," said the school's founding dean, Dr. David Garman.
"The Phantom-300 ROV donated by Collins will be used to teach students about ROV technology and serve as a platform to support student research in underwater engineering," said Dr. Thomas Consi, an Assistant Professor with a joint appointment at UW-Milwaukee in the SFS and the Department of Mechanical Engineering. The ROV that Collins donated was originally used as part of an award-winning federal demonstration project entitled Demonstration Project 80—Underwater Inspection of Bridges that included underwater inspection training by Collins in all 50 states. The ROV unit was used to demonstrate one method employed in the underwater inspection of submerged structures.
"Collaboration with academic facilities and research institutes is beneficial not just for Collins but for all consulting firms since it provides a connection with the technologies and leaders of tomorrow," said Thomas J. Collins, President of Collins Engineers, Inc.
"As part of the Milwaukee community, we at Collins enjoy our relationship with the university and applaud its promotion of underwater activities," said Terry Browne, Division Manager and Professional Engineer-Diver at Collins.
The UW-Milwaukee is also a facilitator of the MATE Regional ROV Contest that introduces high school students to underwater engineering through an ROV design competition, for which Mr. Browne is an industry mentor. With nearly 200 employees nationwide with an office in Milwaukee, Collins is home to several engineers who have graduated from UW–Milwaukee including Karen Martens (BSCE,'89); Mike Dean (BSCE,'94); Todd Demski (BSCE, '99); Peter Busateri (BAAS, '03 and MSCJ, '05); Ken Kiepczynski (BSCE, '04); and Cory Schultz (BSCE, '05 & MSCE, '10).
Collins Engineers, Inc. is a multi-disciplinary consulting firm ranked in the ENR Top 500 Design Firms with sixteen offices in the United States and two offices in Europe. Since its inception in 1979, Collins has been the leader in underwater engineering with specialized in-house professional engineer-divers. Collins is a member of the Association of Diving Contractors International (ADCI), and is an active participant in several other industry societies such as the ASCE's COPRI—Ports & Harbors Committee; COPRI's Marine Renewable Energy committee; and the Marine Technology Society. The company offers a full range of services related to investigations, design, and construction engineering and management. Additionally, Collins regularly authors manuals in conjunction with participating in the implementation of industry protocol, nationally and internationally. Continually on the leading edge of standards and methodology, Collins provides engineering ingenuity and solutions to complex problems.

The SFS is the first graduate school in the nation dedicated solely to the study of freshwater. The School's mission is to train the next generation of freshwater professionals and researchers and to advance fundamental and strategic science to inform policy, improve management, and promote the health and sustainability of freshwater systems worldwide. SFS is located in Milwaukee, Wisconsin, at the edge of the largest freshwater system on the Earth's surface--the Great Lakes. Established in 2009, SFS expands a tradition of freshwater studies at UW-Milwaukee that began in 1966 with the Center for Great Lakes Studies and continued with the Great Lakes WATER Institute in 1973. It has recently launched a Center for Water Policy and will open the Great Lakes Genomics Center this year. A $53 million expansion of its research facility will be completed in 2013.