Valencia to Upgrade Three Ports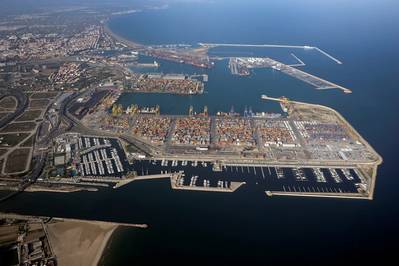 Spain's Port Authority of Valencia (APV) has unveiled plans upgrade three of its ports by 2020.

The Business Plan approved at the last Board of Directors of the Port Authority of Valencia includes investments in its three ports 56.19 million euros during the year 2017 and plans to invest more than 177 million euros for the period 2018 2020.
Port of Valencia

By enclosures, the Port Authority of Valencia will invest 35.44 million euros in the port of Valencia in 2017. Of these, a 25.55 million euro item stands out for the generation and conditioning of new berths and surfaces. Specifically, it is planned to invest 18.5 million euros for the dredging of the Prince Felipe and Levante docks and the improvement of the drainage of the Príncipe Felipe, Levante and transverse wharves of Costa. These actions will allow to increase the draft of the three terminals of Valencia up to a quota of 18 meters and will make the site the first of the Mediterranean to be fully adapted to serve the new generation of container ships, characterized by transporting more than 18,000 TEUs.

Also, within these items, the APV plans to invest 3.7 million for the paving of the old bulk terminal in 2017. According to the Plan of Enterprise, in addition to this initial investment, the APV will dedicate 9 million euros more until 2020 to complete some of these works that will be developed gradually.

Regarding the improvement of accesses, the Business Plan 2017 includes 1.7 million euros of investment for actions on accessibility to the port of Valencia, including works such as the extension of the road South extension and new access to the cruise ship pier and depot.

Regarding rail, the APV will allocate 3 million euros in 2017 for the remodeling of the railway terminal of the Príncipe Felipe Wharf and its adaptation to the UIC width. This action, which will have its continuity in the UIC remodeling and adaptation of the road network between the Poniente Pier and the Costa and Levante Docks, will require investments worth 52 million euros until 2020.