Van Oord Christens Second LNG-powered TSHD Vox Apolonia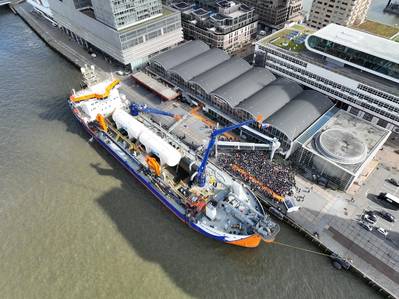 Van Oord announced on Tuesday it has christened its new trailing suction hopper dredger (TSHD) Vox Apolonia, built by Keppel Singmarine Pte Ltd shipyard in Singapore.
The newbuild is the second in a series of three new dual-fuel liquefied natural gas (LNG) fueled TSHDs being built for the Dutch dredging and marine services contractor.
The 10,500-cubic-meter-capacity Vox Apolonia and its sister vessels Vox Ariane and Vox Alexia, fall into the mid-class section of Van Oord's TSHD fleet. measuring 137.5 meters long and 27.6 meters across the beam. The dual-fuel LNG capabilities help to reduce the carbon footprint of the three vessels as Van Oord works to make its fleet more sustainable and economical.
Vox Ariane was christened in June 2022 and has already been successfully deployed on several projects. Triplet sister vessel Vox Alexia is in the final stages of construction in Singapore.
During a two-day christening event, Vox Apolonia was moored along the Wilhelminakade in Rotterdam city center, giving guests and Van Oord employees an opportunity to board the new vessel for a guided tour before its deployment on dredging projects worldwide.
Vox Apolonia is named after Apolonia Adriana van Oord-Visser. She was married to Jac G. van Oord, the founder of the Utrecht branch of the company. Apolonia was one of the first board members and the first woman to join the supervisory board. And even today, the name Apolonia still runs in the Van Oord family. The vessel was christened by Polien Fijan-van Oord and Polianne van Oord. Two granddaughters of Apolonia who are named after her and who belong to the fourth generation of this family-owned company.
---