Vancouver TransLink Seabus Ferry Ordered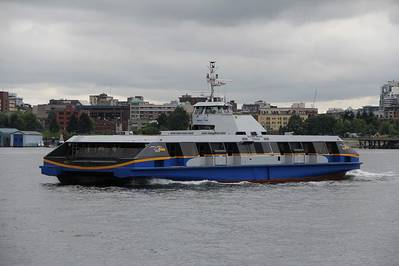 A new SeaBus ordered from Damen Shipyards to replace 'MV Burrard Beaver' serving the city of Vancouver & the North Shore communities.

MV Burrard Beaver, which was built in 1976 and has reached the end of its useful life, is safe for service but no longer complies with all of Transport Canada's current certification standards. This replacement ferry is a requirement to meet these standards.

"SeaBus service is an important component of the region's integrated transportation system. Building a new SeaBus has been part of our plan since 2009 and will ensure continued quality transit service for people on the North Shore," says Doug Kelsey, TransLink Chief Operating Officer. "While today's assets are safe, the replacement ferry will meet contemporary standards, run more efficiently and help keep the air clean."

Following a rigorous bid process, Damen Shipyards Group of The Netherlands will build the new vessel. Three bids were received through the competitive bid process and evaluated on several criteria including shipyard experience, cost and quality of construction. Damen brings 85 years of experience, building roughly 150 vessels a year that are in service around the world.

This is the second replacement SeaBus. The first replacement SeaBus, MV Burrard Pacific Breeze, came into service in 2010. The new replacement will be similar to that ship and include some design updates to improve efficiency, operations, and help protect the environment. The new SeaBus will reduce TransLink's environmental footprint as it will use less fuel and produce 20 per cent less carbon dioxide (CO2) than older vessels. The new vessel will surpasses marine standards to help improve air quality including: 90 per cent less carbon monoxide (CO), 70 per cent less hydro carbons and visible smoke, and 25 per cent less particulate matter.