Waller Marine Delivers Caissons to Venezuela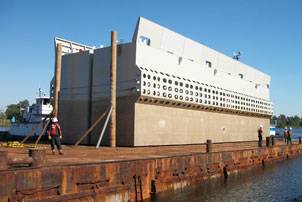 Waller Marine, Inc recently delivered two large steel caissons to clients in Venezuela to be used for closure of a basin that is under construction at the Tacoa floating power generation facility. The caissons, each having dimensions of 115-ft in length, 16-ft in width and standing 26 ft high will be installed at the entrance of the basin that will house the two 170 MW power barges constructed by Waller and now undergoing pre-commissioning activities at the site. The caissons will protect the power barges from wave and tidal action from the sea.

Waller designed and constructed the caissons under an EPC contract with Geohidra of Venezuela and constructed the units to Class by Germanischer Lloyd at the Signal International yard in Orange, Texas. Weighing some 450 metric tons each, the caissons are fitted with a ballast system that will permit their positioning and sinking in place and their future removal and replacement when the basin is extended for installation of a future steam cycle power barge that Waller is currently designing.

Waller Marine, Inc is a full service marine engineering and EPC contracting company located in Houston, Texas.