Vice Commandant Visits USCG Research Center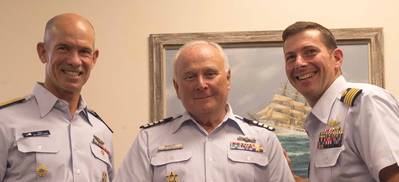 The U.S. Coast Guard Research and Development Center (RDC) in New London, Conn. hosted the service's new Vice Commandant – Admiral Charles Ray on Wednesday. He was onboard the Service's research center to receive an update on several projects, including CubeSATS, UUV, Small UAS, Sunken Oil, cUAS, Artificial Intelligence, and Blue Force Tracking. Additionally, he will celebrate the growing relationship between the RDC, commissioned in 1972, and the Coast Guard Auxiliary.
Admiral Ray, a 1981 graduate of the Coast Guard Academy, is the Coast Guard's 31st Vice Commandant. He directly oversees the Coast Guard's senior operational and mission support commanders, as well as Headquarters staff. Admiral Ray also serves as Service Chief in absence of the Commandant. Additionally, as the Vice Service Chief and Chief Operating Officer, Admiral Ray executes the Commandant's Strategic Intent, manages internal organizational governance and serves as the Component Acquisition Executive.
"As the pace of technology accelerates, the Coast Guard Research and Development Center is more important than ever to keep us ready for future challenges. From aids-to-navigation advancements to IONSCAN for maritime drug interdictions, the RDC has been essential in testing and evaluating state of the market technology and applying it to Coast Guard operations so we can better do our missions."