Video: RoRo Vessel Overturns Off US East Coast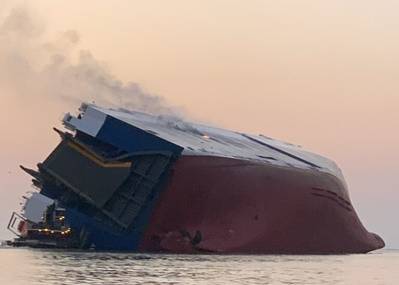 Four crew members are missing from a roll-on/roll-off cargo vessel that is disabled, overturned and has caught fire near Brunswick, Georgia, the U.S. Coast Guard said on Sunday.
Twenty people have been safely removed from the ship, and the Coast Guard said it is working with local partners to locate the four crew still missing from the 656-foot vehicle carrier, MV Golden Ray, which began listing heavily and capsized with 23 crew and one pilot on board in St. Simons Sound early on Sunday morning.
The Coast Guard said it was notified of the capsizing by a 911 call around 2 a.m.
There were 4,200 vehicles aboard the ship when it capsized.
The vessel's master and chief engineer are assisting authorities and salvage teams to develop plans to stabilize the vessel and continue rescue efforts, the Coast Guard said. Also assisting in the response are the Georgia Department of Natural Resources, Moran Towing, SeaTow, Brunswick Bar Pilots Association and the Glynn County Fire Department.
An emergency safety zone has been established to prevent vessels from operating within 0.5 miles of the Marshall-Islands-flagged Golden Ray, which is laid over on its side near the Port of Brunswick.
An emergency spill response crew is stationed and ready nearby, and the Coast Guard is preparing to deploy spill containment booms around the Golden Ray, although it is unclear whether fuel has leaked from the vessel.
The cause of the incident is under investigation, the Coast Guard said.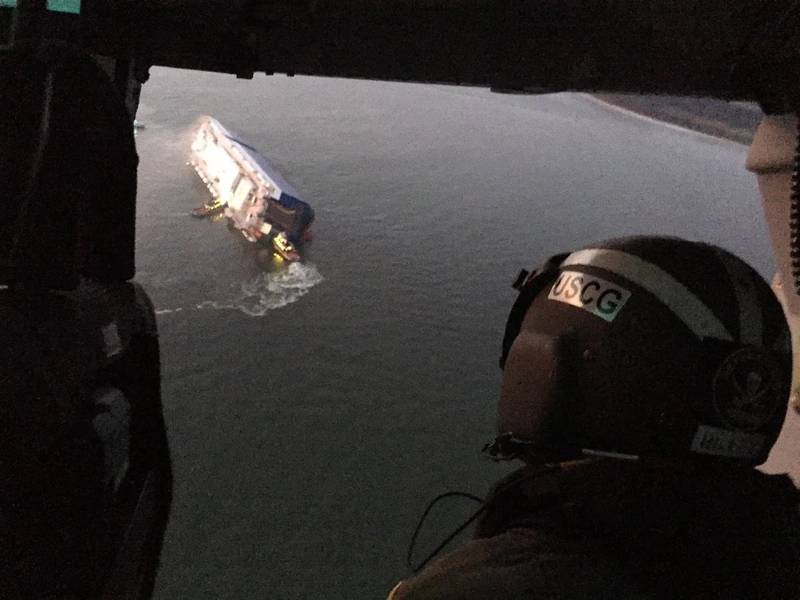 The U.S. Coast Guard is searching for four crew members missing from the disabled car carrier near Brunswick, Georgia (Photo: U.S. Coast Guard)