Vietnamese Fisherman Salvage 'Marie Celeste' Ship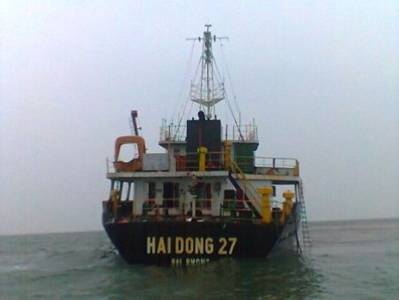 Fishermen discover abandoned fully loaded cargo ship, and successfully tow it to their home base.
The ship, Hai Dong 27, was discovered abandoned and adrift by fishermen from Hoang Hoa district of Thanh Hoa province, subsequently a dozen fishing boats towed it over 140 nm to the shore of Hoang Truong commune, Hoang Hoa district. Seven fishing boats were involved in the towage operation.
Light was cast on the mystery by an earlier report by the Vietnam News Agency that on the night of January 20, the same ship owned by Hai Dong Co., Ltd. in Hai Phong city, on passage with more than 3,000 tons of cargo from Cu Lao Cham to Hai Phong, had its engine room breached and flooded by seas off Quang Binh province. The 13 crew members were rescued by the ship Phu Son 26.
Mr. Le Van Hoang, Chairman of Hoang Truong commune informed those concerned that after receiving reports from the fishermen, the local government had directed the local police and border guard forces to verify the record of this ship and to protect it.