VRSim Launches VR Tool For Painting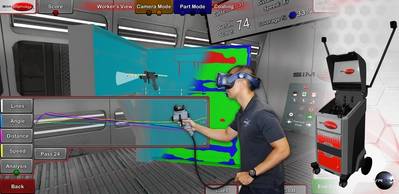 Connecticut-based virtual reality (VR) simulation systems provider VRSim introduced SimSpray 3.0, the next generation of VR paint training tool, which uses HTC's VIVE Pro HMD and VIVE Trackers.

"SimSpray's redesign offers a more intuitive and true-to-life user experience by featuring enhanced visuals, trainee feedback, and the ability to simulate larger work environments," said a press release.

The HTC VIVE Pro enhanced optics and visuals provides SimSpray with the most accurate visuals to provide a realistic and immersive experience.

"SimSpray 3.0 is the next evolution in virtual skills training. Through immersive learning, instant feedback, and performance analytics, students are able to train in a more efficient manner that isn't possible with real-life training," said Matthew Wallace, CEO and President of VRSim. "We're thrilled to offer this solution to our customers and the industry as the most advanced training simulation we have made to date."

As the training tool for the paint and coating industry, SimSpray uses virtual reality to create engaging and educational simulations. SimSpray's tools and feedback include easy to understand performance reports, live scoring, and kinesthetic cues. This tool provides trainers and trainees with the ability to practice, analyze key metrics, diagnose flaws, and improve their skills in a single training session.

"SimSpray is the most effective tool on the market, so we're thrilled to implement the newest version, SimSpray 3.0. Our Directors of Training have used SimSpray to recruit and train the next generation of International Union of Painters and Allied Trades (IUPAT) apprentices since 2009," says Anton Ruesing, Director of the International Finishing Trades Institute (IFTI).