Wärtsilä Powers Polar Supply & Research Vessel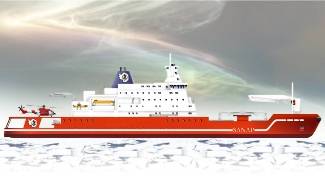 Wärtsilä has signed a contract with the STX Finland Oy shipyard in Rauma, Finland, to deliver four Wärtsilä 32 engines for a Polar Supply and Research Vessel. The owner of the vessel will be the Republic of South Africa's Department of Environmental Affairs, and it will be operated by SMIT Amandla Marine, of South Africa. The vessel's crew will be trained at the Wärtsilä Land and Sea Academy in Turku, Finland.

"This vessel order is one of the biggest single trade agreements ever between Finnish industry and South Africa, and we hope it will lead to additional business. We believe that by providing reliable technology and the highest levels of quality and service, we will benefit also in the future," said Mr Timo Suistio, Director, Rauma shipyard of STX Finland Oy.

The ice-strengthened vessel will be powered by four 6-cylinder in-line Wärtsilä 32 engines. It will be approximately 440 ft long and will have accommodation for 45 crew and about 100 researchers and passengers. Construction of the vessel began in January 2010 and will be launched in March 2012. Wärtsilä's engine deliveries are scheduled to take place in February 2011.

The vessel is being built for research activities and expeditions, but since it will be used to carry equipment and scientists working on the South African National Antarctic Program, it will also have ice-breaking capabilities. Expeditions will take place during the Antarctic summer, starting at the end of December and continuing until the beginning of March. During the remainder of the year, it will serve as a supply vessel for three research centers located on Antarctic islands.

As a mobile research facility, the new vessel will be equipped with a laboratory so that scientists can conduct marine research while on board. Weather data for meteorological institutes around the world will also be collected. Classified as a passenger ship, the new vessel will feature some of the facilities found on cruise ships, including comfortable passenger accommodation, a gym, a library and a small hospital. It will also have a shelter and landing area for two Puma class helicopters.