Amver Awards Presented to Wallem-Managed Fleet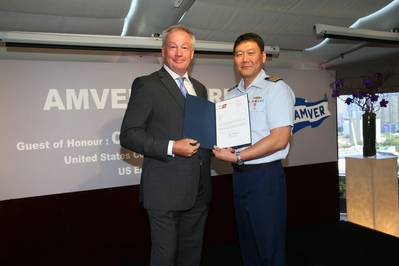 More than 10 percent of Wallem' Ship Managements fleet was presented with Amver (Automated Mutual-Assistance Vessel Rescue System) Awards by Captain Michael H. Sim, United States Coast Guard Liaison Officer to China, in Hong Kong today.

Simon Doughty, Wallem Group CEO, received the Awards on behalf of the crew on board each of the vessels recognised for their involvement.

"Assistance at sea is the oldest maritime obligations, and I am proud to be associated with the Wallem seafarers who uphold this worthy tradition," Doughty said.

Of the 47 Wallem-managed vessels receiving an Award, the Banda Sea stands head and shoulders above the rest, being recognized for 23 consecutive years of involvement in the Amver rescue system.

Captain Gennadiy I. Mozzhin of the Banda Sea, says Amver is important because it supports the sea-going community: "There is a world community, a world community of those that go to sea. Together we can save lives."

Amver is sponsored by the United States Coast Guard and is a unique, computer-based and voluntary global reporting system, used worldwide by search and rescue authorities to arrange for assistance to persons in distress at sea. With Amver, rescue coordinators can identify participating ships in the area of distress and divert the best-suited ship or ships to respond.

Amver's mission is to quickly provide search and rescue authorities, on demand, accurate information on the positions and characteristics of vessels near a reported distress.

The Amver Awards Program was inaugurated in 1971 to recognize vessels which regularly participate in the Amver system.