Indian Navy's New Warship Runs Aground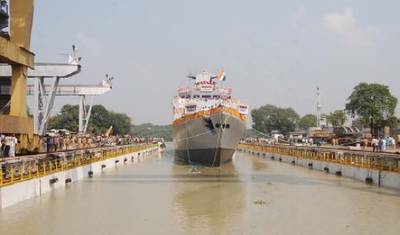 The 'INS Kamorta', the first in a class of Indian Navy's ambitious Anti-Submarine Warfare (ASW) Corvettes, under construction at the Garden Reach Shipbuilders and Engineers (GRSE) shipyard ran aground on in the River Hooghly near Geonkhali in East Midnapore, while on sea trials, reports 'The Times of India'.
Citing Navy officers, the newspaper reports that as the ship was negotiating the bends and bars of the Hooghly, its engines seem to have failed. Its steering gear also got jammed and it moved away from the navigation channel and got grounded near the shore at Geonkhali. Two tugs of the Kolkata Port Trust (KoPT) were sent to the spot.
According to the Navy, extensive checks will be carried out once the ship returns to the yard at GRSE. A team of naval designers and engineers will ascertain what caused the engine failure and the steering gear to fail.

Source:' The Times of India