Somali Pirate Craft Sunk by EU NAVFOR Warship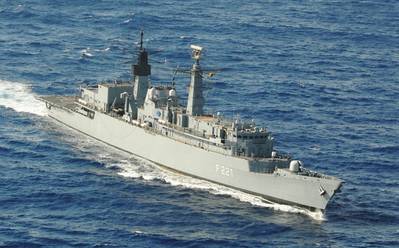 Warships hunt down pirate skiff off the coast of Somalia, take 9 suspected pirates into custody and sink their boat.

Romanian frigate ROS Regele Ferdinand, under command of the EU Naval Force (EU NAVFOR) worked in close co-operation with Turkish warship TCG Gemlik of Combined Task Force 151 (CTF-151) to apprehended nine suspected pirates at sea off the coast of Somalia.

In the early hours of the morning, Swedish EU NAVFOR Maritime Patrol Aircraft located the suspicious skiff at sea 420 nautical miles east of Mogadishu. Counter piracy forces in the area were quickly alerted, and being the two closest warships, both TCG Gemlik and ROS Regele Ferdinand made haste to the area to investigate, as the Luxembourg EU NAVFOR patrol aircraft maintained visual coverage from the air.

Once at the scene, TCG Gemlik sent a boarding team to search the suspect vessel, which had tried, unsuccessfully, to evade capture for over an hour. In an excellent demonstration of co-operation between the 2 counter-piracy forces, ROS Regele Ferdinand then embarked the suspect pirates on to the Romanian frigate for further questioning and evidence collection in order to fully assess the possibility of prosecution of the nine suspects.

Speaking about this latest successful operation to deny suspect pirates the ability to operate at sea, Rear Admiral Potts, who is the Operation Commander of the EU Naval Force said "I am delighted that through the combined efforts of counter-piracy forces in the region, once again, suspect pirates, who ventured out to sea in an attempt to hijack merchant ships and their crews in the Indian Ocean, have quickly been found and their vessel destroyed.