Washington State Ferries Ridership at a 15-year High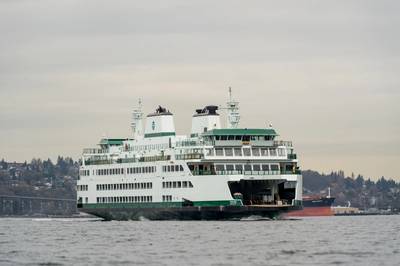 Washington State Ferries, the nation's largest ferry system, carried nearly 24.5 million passengers in 2017, its highest ridership since 2002. Ridership increased for the ninth consecutive year and was up by more than 250,000 over 2016.
"We expect our ridership to continue to grow as more people move to Western Washington," said WSF head Amy Scarton. "As part of the state highway network, the ferry system is a critical link between more affordable housing on the west side of the sound and key employment centers on the east side. Not to mention, we're also a major tourist attraction and an iconic part of the state."
The largest growth came on the Fauntleroy/Southworth segment of the "Triangle Route", where ridership was up 8.2 percent, or more than 70,000 customers over 2016 totals. Vehicle transport was up vehicles up 8 percent within the segment.
Edmonds/Kingston saw the second highest total ridership with customers up 0.5 percent and vehicles up 1 percent.
Anacortes/San Juan Islands saw record ridership despite summertime service disruptions for unplanned maintenance with customers and vehicles up 0.2 percent.
The Point Defiance/Tahlequah segment recorded its second largest year-to-year growth for total ridership with customers up 3.8 percent and vehicles up 1.9 percent.
Summertime vessel breakdowns on the Port Townsend/Coupeville service contributed to a small decrease in ridership with customers down 1.5 percent and vehicles down 1.8 percent.