Vietnam to Tap Waterways Transport Potential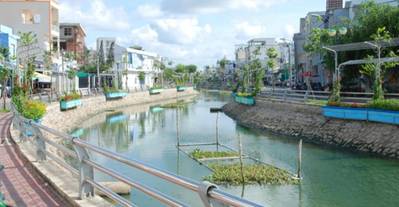 The total length of waterways that can be exploited is 17,000 kilometers, of which 9,000 kilometers are capable of receiving vessels with tonnage of over 100 tons, VietNamNet Bridge reported.
Vietnam still cannot take advantage of its 3,200 kilometers of coastline, 6,500 kilometers of rivers, 126 river ports, 2,300 passenger ports and 4,800 berths.
The Ministry of Transport estimates that Vietnam needs $600 million to upgrade the waterway transport network by 2020.
UNESCO lists
Vietnam among
the 10 countries with the densest waterway transport network. But Vietnam has not paid appropriate attention to developing waterway transport for many years.
The
Ministry of Transport earlier
this year decided that waterway transport needs to undertake 20-30 percent of total volume of cargo and 7-10 percent of total passengers.
Of 396 transport projects considered for development by 2030, inland waterway transport projects are expected to have higher economic efficiency than others (24.8 percent) as they help save money and ease traffic jams. Meanwhile, the figures are 10.2 percent for highway and 4 percent for railway.