Port of Kiel Welcomes Costa Pacifica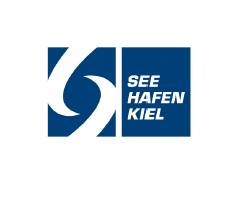 Kiel marks ten years as a base port for Costa cruise ships

Today marks the beginning of Kiel's tenth season as a base port for the cruise ships of the Costa Crociere Shipping Company. It comes as "Costa Pacifica" arrives in Kiel to become the biggest cruise ship ever to berth in the port. Arriving from Harwich, the Costa flagship was met early this morning by the tug "Bülk" and escorted with a fountain display to Kiel's Ostseekai Cruise Terminal where her captain and crew were officially welcomed by the President of the Schleswig-Holstein state capital, Cathy Kietzer. During an on-board reception she presented the traditional First Call plaque and, for the first time, the Guest Flag of the City of Kiel. "It's a big day for our port", said Cathy Kietzer. "We are delighted that Kiel has now been one of Costa Crociere's base ports for ten years and also that the company is introducing its flagship in the Schleswig-Holstein state capital".

The success story began on June 4th 2002 when the "Costa Marina" left the Norwegenkai for her first ever North Europe cruise from Kiel. In the years that followed, the "Costa Classica", the "Costa Victoria" and the "Costa Magica" were all stationed in Kiel during the summer months. The biggest of them all in Kiel, the 102,000 GT "Costa Magica", has now handed on its crown to the "Costa Pacifica", which weighs in at 114,000 GT. Up to September this year, "Costa Pacifica" will leave the Ostseekai a total of 11 times for cruises to the Baltic's biggest cities and the Norwegian fiords as well as to the North Cape and Spitzbergen. Every time she does, more than 3,000 passengers and about twice as many pieces of luggage are expected at the Ostseekai. "Our cruise ship terminal is tailor-made to cope with the demands of cruise ship passenger turn-round", said Dr Dirk Claus, Managing Director of the Port of Kiel (SEEHAFEN KIEL GmbH & Co. KG). "Even though Costa ships will not call quite so often during the 2012 season, Costa will remain a firm partner of the Port of Kiel. I am sure that the company's ships will again become more frequent guests on the Kiel Fiord from 2013", he added.

The SEEHAFEN KIEL operates Kiel's commercial port on behalf of the Schleswig-Holstein state capital, of which it is a 100% subsidiary. It boasts a total of three modern terminals for ferry and cruise ships at the Ostseekai, Schwedenkai and Norwegenkai - all of them close to the city centre.

Source: www.port-of-kiel.com