USACE Wilmington Christen New Survey Boat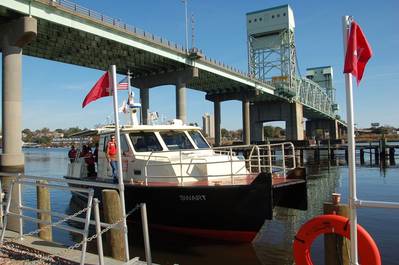 The U.S. Army Corps of Engineers (USACE) Wilmington District name new survey boat 'Swart' at the engineer repair yard.

The boat is named after Dirk Swart III (1935-2011) who served as captain and operator of District survey vessel Gillette from 1971 to his retirement in 2002 at the age of 76. Swart was not only the senior survey boat skipper, but he was also the last veteran of World War II to retire from the Wilmington District.

"The Swart, which replaced the aging Gillette, is state-of-the-art," said Wilmington District Commander Col. Steven Baker. "It is equipped with advanced surveying capabilities including a multi-beam surveying suite and night vision capability. A lot of hard work and collaboration between the Wilmington team and the Silver Ship team went into making this vessel state-of-the art. We face challenges in our dredging operations, and our survey vessels play a prominent role in gathering hydrographic data that enhance maritime safety. The Coast Guard uses the information we gather to help them locate navigational aids and to make determinations for navigation safety."

Wilmington District survey vessels are the first on the Atlantic Intracoastal Waterway following hurricanes. When hurricanes strike the North Carolina coastal areas, navigation and shipping lanes can become extremely dangerous. Boats and ships may sink, and storm surge can drag cars or even houses into the ocean. Sea floor topography shifts creating shoals of sand and debris. The District's hydrographic survey vessels are called to calibrate the shifting sand, and to detect obstructions in the waterways.