Two More CTruk Workboats For OTS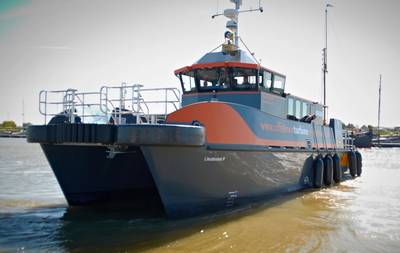 OTS took delivery of its sixth CTruk 20T MPC vessel, with its seventh coming by the end of May.

Pontrilas-based Offshore Turbine Services (OTS) offers crew, fuel, cargo and equipment transfer services to offshore wind turbines, sub stations and other offshore developments requiring maritime logistics. Speed, flexibility, minimum vessel downtime and cost-effectiveness are the company's main focus points, and according to CTRUK, OTS' decision to operate its multi-role composite catamaran workboats has proven key in delivering these. Offshore Turbine Services now owns six of CTruk's popular 20T MPC offshore wind support vessels, with a seventh currently in the final stages of production.

OTS measured total fuel consumption of 100 liters per hour at 2,000rpm and 20 knots on the latest 20T to join the fleet, Lieutenant P.

CTruk said it uses a vacuum infusion process to build composite craft to the highest standards, saving around 40% on weight and optimizing hull hydrodynamics, means that these robust workboats burn less fuel. This fact, coupled with inherent versatility gained from the company's now patented moveable wheelhouse and modular deck pod system (the passenger pod can be craned off to open up the deck area for equipment transfer) has resulted in CTruk's offering gaining more traction in a changing offshore wind support market.

OTS chairman Phil Collins said, "We are pleased to launch our sixth vessel, Lieutenant P, which is the latest incarnation of the CTruk 20T. The new vessel includes upgrades and refinements that we have worked closely on with CTruk, including bigger Rolls-Royce Kamewa waterjets which have increased the vessel's bollard pull."

OTS' seventh CTruk catamaran, Master P, will join the Offshore Turbine Services fleet at the end of May 2014.