Diesel FUEL FILTER ALERT System Keeps Workboats Working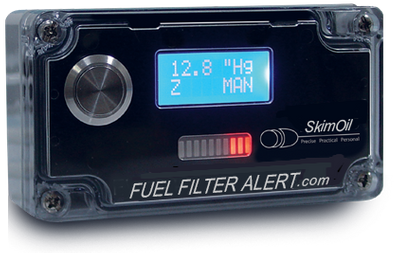 SKIMOIL, Inc.'s new diesel FUEL FILTER ALERT and alarm system, developed specifically for the commercial marine industry, provides an accurate real-time indication of fuel filter status.
The system is especially valuable for vessels that don't have constant filter monitoring by dedicated on-board engineers, such as harbor tugs and other workboats running with a small crew. "All it takes is a load of bad diesel fuel to get a workboat in serious trouble fast, and it's always when least expected," said Roscoe McWilliams, manager of SKIMOIL, the custom designer-manufacturer of oil skimmers, separators and marine pollution control equipment. "This is a straightforward vacuum instrument designed to detect fuel-filter degradation and alert operators so they can take action before failure. Best of all, it has no moving parts and needs no sensitive pressure lines. We like simple."
The system consists of a remote digital display panel and rugged stainless steel sensors. The easy-to-read digital display features a numeric pressure readout with active messages and a colored-light indicator graduating from green to yellow to red as the filters become more clogged. An audible alarm sounds when filter attention is required to help operators avoid loss of power or engine failure. In development for the past 2 years, the diesel FUEL FILTER ALERT and alarm system was in sea trials for 8 months.
Installation is fast and easy, requiring only a signal wire from the remote display panel to the filter sensor, which attaches to the existing RACOR filter housings on most vessels. The remote display can be easily mounted in the wheelhouse, control room or anywhere on the boat to automatically monitor up to 3 filter systems. In addition to being an engine and injector-saver, it's also a serious money-saver for allowing operators to change filters when needed as opposed to following a schedule that may not reflect actual need. Fewer filter changes means less replacement filter inventory and a reduction of special waste to handle and dispose of.

FUEL FILTER ALERT systems can be seen online at www.FuelFilterAlert.com or by contacting Roscoe McWilliams, SkimOil manager, at (314) 579-9755.