Blyth Workcats Delivers Aqualink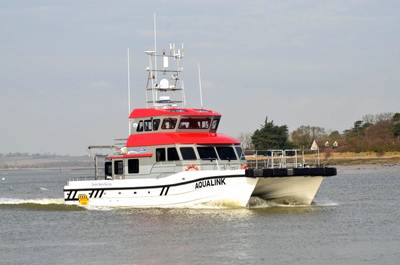 The first two-deck boat ever built by Blyth Workcats has recently been delivered to a customer in Belgium. The 18-meter Aqualink is the first Blyth Workcat to feature a high bridge and it has now entered service with Ostend Marine Services for which it has been designed to undertake a wide range marine operations. These include work as a charter survey vessel while also being equipped with an Ocean 3 bow fender and wide foredeck that enable it to undertake crew transfer and cargo delivery to offshore wind farms.
Powered by two MAN V8 750 engines, the new boat has a cruising speed of 20 knots and a range of around 700 miles that is made possible by two 600-gallon fuel tanks and an economical fuel consumption of around 75 liters per hour. The smart cabin interior is fitted to carry 10-passengers in comfort on full suspension seats. There is also a kitchen and dinette and a two-berth cabin for use during extended cruising.
The Aqualink can also be chartered as a fully equipped professional survey boat. Its design includes a watertight compartment occupied by a moon pool and multi-beam sonar deployment module designed and built specifically for the vessel. There is also an A-frame davit that can be used for launching a RIB, towfish or for bottom sampling and the deployment of seabed equipment. The high bridge affords clear, all-round visibility from the helm and navigation seats and also accommodates the principal survey desk that can be used for topsides electronics when on charter.
This is now the second Blyth boat that Ostend Marine Services has purchased from the Canvey Island, U.K., yard. The company has been using a 14-meter Workcat successfully for several years and experience gained with this boat has enabled the new owners to identify design refinements and to commission the new vessel to include a variety of features of their choosing.
"There is probably no such thing as a standard Blyth Workcat, and the Aqualink illustrates this perfectly," said Edward Tuite customer services manager for the yard. "We specialize in being able to provide custom quality boats at mass production prices, and this is a good way of winning customer loyalty. Buyers can specify all of the little and apparently inconsequential details that make the difference between a boat that is simply acceptable and one that is loved. It can be built without any of the niggling irritations that can stop a design winning five stars of approval from the customer. An example on the Aqualink is the small wash basin that has been installed on the after deck just outside the cabin. This was fitted at the customer's request so that there is no need for passengers or crew to bring grubby hands into the accommodation area. It is details like this that make a difference to a boat and we are happy to include them."