Mystery Wreckage Sighted Off US Coast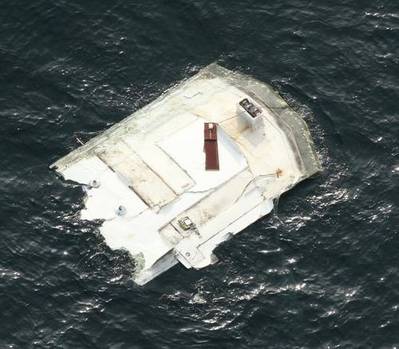 A U.S. Coast Guard helicopter located the debris and a male body about 22 east of the entrance to the St. Johns River.

A Florida Fish and Wildlife Conservation Commission aircrew reported the debris, including two large pieces of a vessel; 10 life jackets; flares; and an oil sheen.
It is unknown if additional people are in the water or otherwise in distress, but the Coast Guard is responding as though there are.
Continuing to search the area surrounding the debris field are a boatcrew aboard a 45-foot Response Boat-Medium from Coast Guard Station Mayport in Atlantic Beach and a C-130 Hercules plane from Coast Guard Air Station Clearwater, Fla.

The Coast Guard Cutter Cormorant is en route, and the Coast Guard Cutter Kingfisher is slated to join the search Monday morning.

Anyone with information about the debris field is urged to contact watchstanders at Coast Guard Sector Jacksonville at 904-564-7511.