Wärtsilä's Hatley Honored by SNAME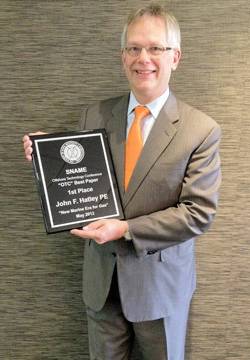 In a reception hosted by The Society of Naval Architects and Marine Engineers (SNAME), John Hatley, Americas Vice President Ship Power, Wärtsilä North America, was announced as the 1st place author in "The Winning Authors of Best Papers Presented at 2012 Offshore Technology Conference (OTC)."
Hatley's paper titled, "New Marine Era for Gas", was presented during the technical program of the 2012 Offshore Technology Conference that took place April 30 – May 3 in Houston, TX. His presentation covered the five drivers of preference for LNG natural gas. These drivers include, the availability and affordability of shale gas and the three United States Environmental Protection Agency mandates that cover: sulphur content reductions in fuel, the geographic Emissions Control Area, and the stringent engine emissions reductions.
A copy of Hatley's paper may be viewed on the Offshore Technology Conference website (www.otcnet.org) under the Wednesday, May 4 Technical Program.
"It is a true honor to receive this award and I am humbled plus very thankful for this recognition. In more broad terms, this speaks loudly that the Society of Naval Architects and Marine Engineers, a leading global professional organization, shares a vision of a new gas era for the marine community," stated John Hatley.
SNAME, founded in 1893, is an internationally recognized non-profit, technical, professional society of individual members serving the maritime and offshore industries and their suppliers. The Society comprises over 8,000 individuals throughout the United States, Canada and abroad.