Yangzijiang to Build Huge Ore Carriers for Australia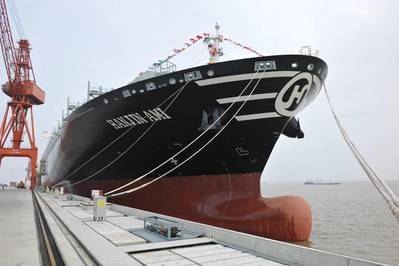 Chinese shipbuilder on the SGX Main Board Yangzijiang Shipbuilding Holdings Limited announced that it has secured a shipbuilding contract for four 260,000DWT very large ore carriers (VLOC).

The shipbuilding contract was secured from an Australia based ore company listed on the Australian Securities Exchange and the contract is the first of its kind in Yangzijiang's orderbook. Yangzijiang's ability to break into Australia, a new geographical reach, continues to demonstrate shipowners' growing confidence in Yangzijiang's shipbuilding competency, the builder said. Yangzijiang expects to deliver the VLOCs from 2016-2017.

Commenting on this contract win, Ren Yuanlin, Executive Chairman of Yangzijiang, said, "Yangzijiang is emboldened to have secured its first ever 260,000DWT VLOCs order. The group has observed that shipowners are enhancing their focus on vessels' operational efficiencies and as a result, the shipbuilding industry is experiencing a rise in demand for larger vessels that provides higher carrying capacity. The demand uptrend for these cost effective and higher efficiency vessels is in line with the Group's goal to scale the shipbuilding value chain."

Yuanlin continued, "The group wishes to reassure our shareholders that our investment size into non- core businesses i.e. investment in held to maturity and property development will be closely monitored and kept under control, and we would like to reiterate that our focus remains on our core shipbuilding business. Our key strategy is to redirect attention from our non-core businesses into our core shipbuilding and its related businesses such as shipping logistic and trading business. The group will gradually reduce our investment in non-core businesses and eventually divest these businesses. Going forward, we will augment our shipbuilding capabilities to better serve our customers by providing them with a wider range of sophisticated vessels, and particularly towards research and development to continuously improve our vessel designs and shipbuilding process.

"Previously with first ever 10,000TEU containership orders and now with the orders for 260,000DWT very large ore carriers, we have advanced Yangzijiang to be one of the most prominent shipyards in China. Our dream and ambition does not end here and we aim to develop even more sophisticated, complex and bigger vessels in our endeavor to see Yangzijiang rise as one of the top shipyards in the world."

"On the 11th of June, we held at our Taicang Yard, the naming ceremony of our fourth and fifth 10,000TEU containerships, namely, "HANJIN AMI" and "HANJIN TABUL". On the 16th of June, we have successfully delivered "HANJIN AMI" to our customer, marking the delivery of our fourth 10,000TEU containership. The successive completion and deliveries of our 10,000TEU containerships continue to build on our track record and increase our presence in the mega containerships," Yuanlin added.