Arctic Survey Ship Zig-Zags Along Route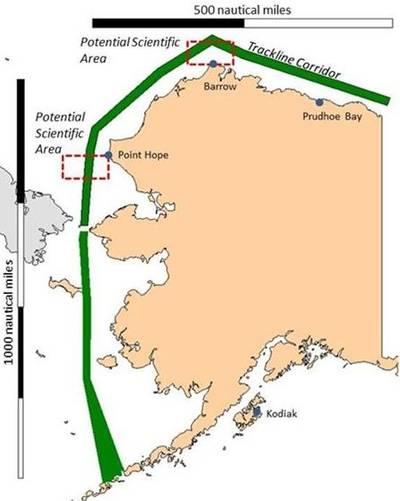 NOAA Ship Fairweather zigzags her way to accurate and precise depth soundings as it starts Arctic depth reconnaissance survey.
The officers, scientists, and crew of the NOAA Ship Fairweather have started their 30-day Arctic reconnaissance survey.The diagram produced by Cmdr. Marc Moser in Coast Survey's Hydrographic Survey Branch, shows the corridor Fairweather will travel during this survey project. (Fairweather's survey corridor is shown in green.)
The ship will zigzag back and forth within that corridor, checking actual depth soundings against measurements acquired during the 20th century or even earlier.
To completely survey the green track line, in a normal full-bottom survey, would take 880 days. That is why Fairweather commanding officer Cmdr. Jim Crocker is taking the ship on a reconnaissance survey, instead of "mowing the lawn " like survey ships do when they map out sections of the ocean or coastline in a grid pattern.
Taking sample measurements of the water depths during this reconnaissance is vitally important to NOAA's mandate to provide the maritime industry with accurate and precise nautical charts. Coast Survey hydrographic teams have been measuring ocean depths in coastal Alaskan waters since the 1870s, and many of NOAA's Alaskan nautical charts ‒ especially in the Arctic ‒ still rely on those depth measurements, many made with lead lines.