Zodiac Lifeboats at Cruise Shipping Miami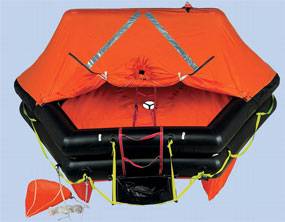 Zodiac recently introduced two new products specifically developed for the cruise ship industry: stacking container design and an extended-service life raft. Zodiac will attend Cruise Shipping Miami 2009 from March 17 to 19, on the French Pavilion, booth 1058.

Zodiac has developed a full range of life rafts in sizes from 6 to 150 persons that meet International specifications and standards (SOLAS) as adopted by the International Maritime Organization (IMO). In addition, Zodiac has Marine Evacuation Systems available for both low and high freeboard heights that provide quicker and safer vessel evacuation. It also offers a range of SOLAS-approved rescue boats.

One of its new products for the cruise ship industry is a stacking container design. It provides space saving installation options for the vessel owner. This feature also allows easier removal and installation of the equipment during servicing periods.

Next is Zodiac's extended-service life raft (EPS), which offers a 30-month service interval, compared to the industry standard of 12 months. This feature not only provides service cost savings to the owner, it also allows the vessel more flexible schedules if servicing requirements can be extended.

Zodiac has offices and distributors worldwide. Some of Zodiac's customers include RCCL, Celebrity, Cunard, Norwegian Cruise Lines, Azamara Cruise Lines, Holland America, British Columbia Ferry Corporation (the world's largest ferry operator), Alaska Marine Highways, Washington State Ferries, Brittany Ferries and the UK Royal Navy.