On the leading edge of shipping digitalization
AXSMarine continues its frontrunner course on providing data and collaborative tools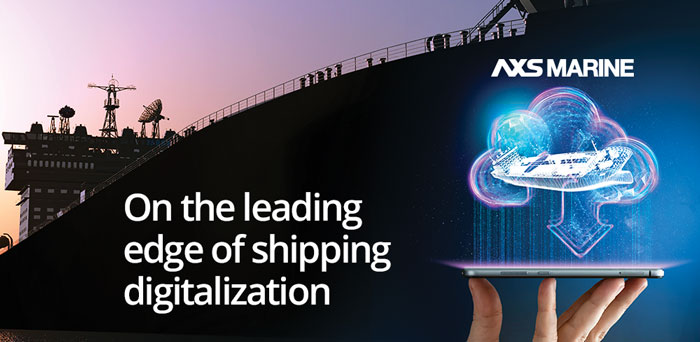 In the world of shipping, 20 years is tiny blip on the historic timeline of the industry, less than the typical life expectancy of a modern vessel. However, with the onset of the global digital revolution, the past 20 years have led to technological advancements in shipping software comparable to the advent of propulsion engines in ships two centuries ago.

As such, the digitalization of shipping has been a constantly evolving process running for over two decades now, and at an unprecedented speed. Nowadays, many companies fill many niches of the market – from live tracking of vessels through satellite signals, to calculators allowing quick estimations on every detail of a cargo voyage. Thus, the choice for any shipping professional becomes abundant in the modern era of shipping.

An innovator with vast experience
AXSMarine, a pioneer in the provision of advanced solutions for shipping professionals born in the very early days of the Dotcom boom, says it has the recipe of tomorrow. The company provides not only single tools tailored to suit specific needs, but an entire ecosystem of data and communications that covers virtually all aspects of the modern-day industry.

Its platform entails a multitude of modules designed to streamline ship chartering and market analysis for owners, managers, operators, brokers, etc. Whether you're involved with Dry Bulkers, Tankers, or Containerships, AXSMarine claims it's got you covered anytime and anywhere. With services that are entirely web-based and hosted in a secure environment, its software does not require local installation and is accessible with a simple internet connection.

"In the modern world of shipping, our modules are much more than just shiny standalone tools – they are augmented by an enormous proprietary dataset enticing the entire market, as well as the option for any user to add private info for their own benefit", said Steve Fletcher, CCO of AXSMarine. "It's a truly unique experience for any shipping professional to see just how much the digital age in the industry has progressed. As the world grows more connected by the second, allowing our users to work in a collaborative environment, either in their own teams, companies, or as a part of the global shipping community."

What you gain from their offer
AXSMarine's package offers the combination of vessel and cargo management software, live ports and bunkers monitoring, voyage calculation tools, indices and freight rates data, automatic email scanning and data translation, fixtures module and historic database, multiple options for market analysis of commodity movements and trends from the micro- to the macro-level, interactive platform for report generation, and more.

Latest innovation releases
AXSMarine says one of its latest products developed addresses the challenge of handling Big Data in the modern shipping market. Through the use of APIs, it provides its users with full interoperability, advanced integration, data security, analysis customization and workflow optimization. Users also get full control of their data, including the ability to set-up auto-population of raw data feeds eliminating the need of tedious manual updates. An API, or Application Programming Interface, is a set of definitions, protocols, and tools, clearly defining the methods of communication among various software components.

Decarbonizing shipping
With the upcoming 2023 GHG Strategy revision, AXSMarine also developed a complimentary calculator that can determine the CO2 effect of each vessel voyage to the environment. It is a fully automated tool, which works both with the EEOI (Energy Efficiency Operating Indicator using grams of CO2 per tonne-nautical mile) and the AER (Annual Efficiency Ratio using grams of CO2 per deadweight-tonne-nautical mile) methodologies.

"Our CO2 calculator takes into account HSFO, VLSFO, and LSMGO carbon factors and provides an Alignment Delta to the EEOI trajectory values for its users", added Steve. "It is also fully automated and does not impact the workflow of its users, allowing them to estimate the specific CO2 cost of every voyage depending on the region of operation."

Learn more about AXSMarine's solutions are available at: https://public.axsmarine.com/solutions.
About AXSMarine

Founded in 2000, AXSMarine is a global provider of online software solutions to the international shipping industry and is trusted by more than 10,000 users worldwide. Its software solutions deliver remarkable efficiency to commercial chartering processes in Dry, Tanker, and Containership chartering. These products provide a suite of modules, which allow shipping executives to fully analyse their commercial and operational activities. All web-based, services are accessible from any computer, anywhere; without additional downloads or installation. AXSMarine online tools are secure, fast and easy to use. With AXSMarine, professionals work faster, manage more efficiently and plan better. The company is headquartered in Paris, France and has presence in France, UK, Germany, Greece, Bulgaria, Singapore, UAE and USA.