Introducing a New Era of Performance and Accuracy in Marine Design With Cadence Fidelity CFD Simulation
Discover CFD software that functions as a virtual towing tank, highly automated and fully dedicated to marine design.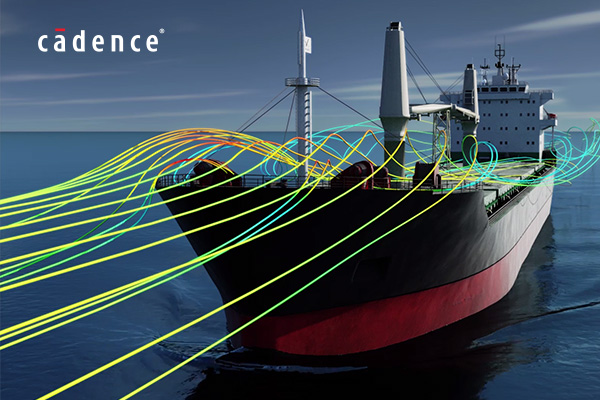 The computational fluid dynamics (CFD) industry faces increasing demand for efficiency, accuracy, and speed. In the shipping industry, rising fuel prices comprise more than half of expected shipping operating budgets, and especially when working with big volume vessels, even the most minor improvements in fuel consumption can save millions of dollars. Therefore, maximizing efficiency and optimizing every aspect of a vessel design is crucial, and CFD offers unprecedented possibilities for obtaining optimal design solutions.

Cadence® Fidelity™ Marine CFD simulation comprises dedicated, virtual naval architecture and marine design tools that function as a virtual towing tank, offering easy-to-use, scalable, highly automated optimization processes and unparalleled free surface modeling. Solve and optimize propulsion, resistance, seakeeping, wind studies, and maneuvering in your designs through our dedicated workflows and team. Equip yourself with the utmost accuracy and efficiency with Cadence CFD solutions.

With constantly changing sea, transport, loading, and racing conditions impacting the performance of your designs, hundreds or even thousands of simulation runs may be required for you to finalize a design and feel fully confident about the accuracy of its results. Automation is therefore crucial for minimizing turnaround speeds without compromising the accuracy of the results. Our solutions have automation in place for resistance at low and high Froude numbers, seakeeping, (self-)propulsion, trim optimization, open water propellers, and many other facets of ship CFD analysis. Our team of naval engineers has worked closely with our customers to create dedicated automation workflows. Whether you are deep in an America's Cup or Vendee Globe campaign or are working to reduce drag and improve the propulsion efficiency of ships, you can trust our automated capabilities to provide you optimal results with accuracy and speed.
---
The Fidelity CFD platform is the end-to-end solution for all CFD-related applications. The dedicated tools within Fidelity CFD can solve each step of the simulation process quickly and efficiently. Furthermore, Fidelity CFD was designed with ease of use in mind with an intuitive and application-driven interface or through automated processes with the Python API or optimization module available.

READ TECHNICAL BRIEF