Register now for the 2022 Dry Dock Conference!
On 22-23 September, 2022 is the next highly successful International Dry Dock Conference.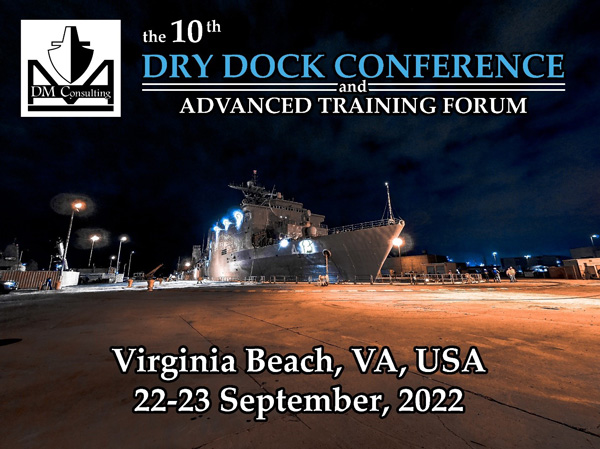 The tenth in this highly successful series of International Dry Dock Conferences/Advanced Training Forums will be held 22-23 September 2022. There will be opportunities for all involved in the industry to take part in discussions and share knowledge and experiences. The conference provides advance training for those in the dry dock industry. The targeted audience is:
Consultants
Dock Masters/Docking Officers
Dry Dock Crews
Engineers/Naval Architects
On-site Representatives
Port Authorities/Managements
Port Engineers/Marine Surveyors
Program/Project Managers
Shipyards
Vessel/Ship Owners/Crews/Representatives
Others allied to this field representing shipyards, engineering organizations, consulting firms, government agencies, vessel owners and others involved or interested in the dry docking of ships and vessels
Past participants included representatives of shipyards, government agencies, engineering/consulting firms, and ship/vessel operators from six continents. Numerous topics with valuable technical information will be shared with attendees.
Presentations
The goal of the conference is to stimulate the transfer of drydocking knowledge and information to personnel in the drydock industry. Presentations given by various experts in the field will cover unusual, unique and problem drydockings, with opportunities for all attendees to take part in discussions and participate at the conference.
2022 Conference topics include (topics are subject to change):
Dry Dock Construction - Conception Through Delivery
Dry Dock Equipment
Dry Dock Spatial Assessment Tool
Dry Dock Upgrade
Drydocking/launching with airbags
Drydocking/Undocking Accidents
Drydocking/Undocking from the Vessel Operator Perspective
Economic Aspects of Drydocking
Emerging Dry Dock Technologies
Floating Dry Docks - Civil/Structural Design Aspects and Applications
Heavy Lift Operations - USS Fitzgerald and USS McCain
Ship Loading Issues for Drydocking
Special Drydocking Situations
Unique Drydocking Operations - One Vessel on Two Dry Docks
Wooden Ship Drydocking - Drydocking of the USS Constitution
Networking
There will be areas for displays and tables for handouts/brochures. Vendors, consultants, and representatives are encouraged to bring and distribute information at the conference.
Attend in-person or by live stream webinar. Visit our website for more information and to register:
www.DryDockConference.com