Costa Deliziosa Completes Her Technical Launch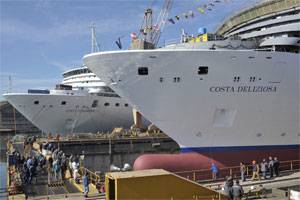 Costa Cruises, Italian tourism group and European cruise company, and Fincantieri celebrated the technical launch of the Costa Deliziosa at the Marghera yards: the first time the ship touched the sea flooding the dry-dock where she is under construction.

The Costa Deliziosa, the 15th ship of Costa's fleet with a total tonnage of 92,700 and a capacity of 2,828 passengers, is scheduled to be delivered at the end of January 2010, after completing the interior fitting out operations. Along with her sister ship, the Costa Luminosa, she will be the fleet's flagship.

The Costa Deliziosa will be the third new Costa ship delivered by the Fincantieri yards in less than one year. The Costa Luminosa, also built in Marghera, will be delivered at the end of April 2009, while the Costa Pacifica, built in the Genova-Sestri Ponente yards, will be delivered at the end of May 2009. The official technical sea trials of the 2 ships were successfully completed, confirming the operating efficiency of the systems, equipment and engines. The tests were conducted during the first crossing of the Costa Luminosa and the Costa Pacifica.

"The launching of the Costa Deliziosa is real proof of the soundness of our company," said Gianni Onorato, President of Costa Cruises. "Despite the current difficulties in the tourism sector and overall economy, we are continuing the expansion plan of our fleet…."

Costa Cruises fleet expansion plan includes 5 new ships (including the Costa Luminosa, the Costa Pacifica and the Costa Deliziosa) to be delivered by 2012. Built in Italy by Fincantieri, each ship requires the professional expertise of about 3,000 workers from Fincantieri and roughly 500 linked industry companies, the majority of which are Italian. The 5 new ships represent a 50% increase in the capacity of the Costa fleet, Europe's largest: in fact, in 2012, the fleet will consist of 17 vessels with a total capacity of 46,400 passengers.