MacGregor Anchor-Handling/Towing Winch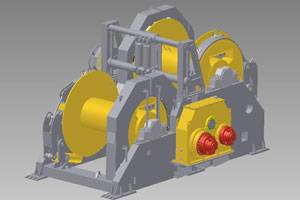 MacGregor can now offer anchor-handling towing winches (AHTW) with pulling powers of between 300 tonnes and 600 tonnes and will be able to supply them in both hydraulically and electrically-driven versions. MacGregor is part of Cargotec Corporation, the world's leading provider of cargo handling solutions used in local transportation, terminals, ports, distribution centres and ships.

Although traditionally supplied as hydraulically-operated, the new range of AHTWs will also be available as electrically-driven units. The target date for the launch of MacGregor's new electrically-driven AHTW is planned for the end of 2009, with an expected delivery for summer 2010.

"Requests were made from some vessel owners regarding the possibility of using electric-drive winch packages, as they believed that these would deliver better performance and be a significantly more effective technical solution than a hydraulic-drive. Additionally, the electric-drive solution is also the most environment-friendly," explains Chai Chon Kim. "With these requests, as well as the advances in electric-drive technology, we decided to look at further developments in the industry for electrically-driven 300-tonne to 600-tonne AHTW packages.

"The conceptual design of the electrically-driven AHTW started around November 2008, after the first 300-tonne hydraulic design was completed. After almost six months of development, we produced a design that incorporates the majority of mechanical components used in the hydraulic-drive winch. The design concept allows MacGregor to build up the winch, including drums, shafts bearings and frames, for either type of drive, and simply add on the hydraulic or electric drive package. This concept allows for the standardisation of components, which translates to savings in both the overall design and manufacturing costs."

The electric-drive versions have available many of the same features as the hydraulic ranges, with four speed ranges, dynamic braking, hydraulic spooling devices, electro-hydraulic power packs and pilot systems for the operation of clutch and brake cylinders and spooling systems.