USS Makin Island Electric Drive Propulsion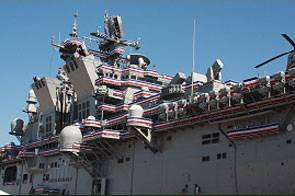 The United States Navy commissioned its new LHD 8 ship USS Makin Island on October 24, 2009 in San Diego, California. The USS Makin Island is the first U.S. Navy amphibious assault ship to feature a unique hybrid propulsion system that relies on two LM2500+ gas turbines or two diesel electric motors.

According to remarks made by the Honorable Ray Mabus, secretary of the U.S. Navy, during the Naval Energy Forum held in McLean, Virginia on Wednesday, October 14, 2009, the vessel's hybrid propulsion system -- amongst other overall ship design enhancements -- can be credited for helping save on fuel and maintenance costs. "Just two months ago, the Makin Island, our hybrid of the seas that uses an electric motor to power the ship at low speeds, went from where it was built in Pascagoula around to its homeport in San Diego. During that initial voyage alone, she saved close to $2 million in fuel costs. NAVSEA estimates at today's fuel prices the Makin Island will save $250 million over the lifetime of that ship, and it doesn't include reduced maintenance costs..."

Brien Bolsinger, general manager of GE Marine, Evendale, Ohio, said "There are more than 380 LM2500+s operating in industrial settings throughout the world, yet the USS Makin Island marks the first military marine use of this aeroderivative gas turbine."

The hybrid propulsion system's gas turbines and electric motors operate independently. The LM2500+ gas turbines, which provide a total of 70,000 horsepower (hp), are used for high speed service, propelling the vessel to more than 20 knots. The two diesel electric motors combined provide 10,000 hp and are used for low speed operation. The ability to select the best mix of power plants to match the immediate mission requirements provides the opportunity for significant fuel savings and reduction in operating costs for the ship.

The USS Makin Island was constructed by Northrop Grumman Shipbuilding at its Pascagoula, Miss. shipyard. The GE LM2500+ gas turbines were manufactured at GE's Evendale facility.