Barge Capsizes Near Astoria, Ore.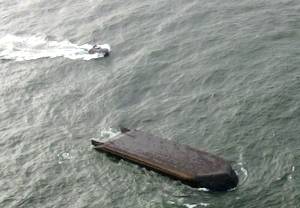 The Coast Guard responded to the capsizing of a barge approximately eight miles from the Columbia River bar near Astoria, Ore. The crew of the 100-ft Canadian tug General Jackson contacted the Coast Guard to report their 295-ft barge had capsized at about 7:30 a.m, April 13. A Coast Guard MH-60 helicopter crew from Group/Air Station Astoria and a 47-ft motor lifeboat crew from Station Cape Disappointment in Ilwaco, Wash., were sent to the scene.

The barge was loaded with scrap metal and contains approximately 500 gallons of diesel fuel. The capsizing occurred in approximately 300 ft of water and weather on scene was calm. The Coast Guard has contacted the vessel owner, the Oregon Department of Environmental Quality, and the Washington Department of Ecology. No injuries have been reported and a light sheen has been observed coming from the vessel.