The Ice Strengthened, Twin Hulled Susitna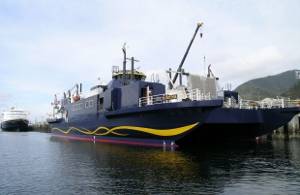 The M/V Susitna is an Office of Naval Research (ONR) platform demonstrating variable geometry/variable draft capability in a twin hull marine vessel. Tests and trials of this first of class vessel will demonstrate its ability to operate as a deep draft, high speed vessel capable of carrying large payloads in high sea states with a stable ride, then transition to a shallow draft, beachable, landing craft mode capable of delivering Expeditionary Forces to the beach.

M/V Susitna is an ice strengthened, twin hulled marine vessel. Incorporating a Small Water Plane Area Twin Hull (SWATH) design, this high-speed craft is capable of 20 knots in open seas, or five knots in two feet thick, first year sea ice. At 195 ft in length with a 60-ft beam, Susitna's normal service speed is 17 knots carrying 130 passengers and 20 vehicles.

Susitna's variable geometry provides the means to vary the ship's draft. Her twin steel hulls are joined fore and aft by steel cross members forming a rectangular donut hull form. A buoyant, aluminum center cargo deck is mounted on very large hydraulic cylinders that raise the cargo deck above the water in her high speed mode or force the buoyant deck into the water in her landing craft mode providing a variable draft from 12 ft to 4.5 ft. Ice breaking is accomplished in the deep draft mode.

In an innovative arrangement, the Matanuska/Susitna (Mat/Su) Borough will own and operate Susitna as a Roll-On/Roll-Off Passenger (Ro/Ro/Pax) ferry and rescue boat. During the first five years of operation, Mat/Su will collect real life operating and performance data for ONR. At the end of this demonstration period Mat/Su will continue to operate Susitna as a ferry relieving the Navy of maintenance and disposal costs during and after the demonstration period.

The ferry will serve the three most populated areas of Alaska: Anchorage, population 260,000, Mat-Su 83,000, and Kenai 53,000 and will accelerate economic growth at the deep-water, international port at Point MacKenzie. Tyonek is also interested in the Susitna class vessel to serve its growing resource based transportation need. Construction of Susitna in Ketchikan has accelerated the evolution of Alaska's marine industry cluster creating demand for the expanding Ketchikan Shipyard operated by Alaska Ship & Drydock, Inc. (ASD under agreement with the Alaska Industrial Development and Export Authority.

ASD and ONR contracted to design and construct the E-Craft in 2005 based on Lockheed Martin's Patented Vari-Craft concept NAVATEK provided the conceptual innovative design for the propulsion system. Guido Perla and Associates performed the detailed design applying the International Maritime Organization's (IMO) high speed craft code, American Bureau of Shipping (ABS) rules and USCG Regulations to Susitna's contract design. As the Prime Contractor, ASD has provided producibility oversight during detail design to assure the vessel can be constructed as designed, has constructed the structural steel hull, and installed all of the mechanical, hydraulic, electrical, piping, propulsion, and control systems in the vessel. M/V Susitna will be classified by ABS following delivery in April 2010.

Latitude Marine Services constructed the aluminum cargo deck and passenger houses. Pacific Power Products is the primary propulsion and electrical machinery system integrator. MTU supplied four 2735 BHP diesel engines driving four specialty Wartsila water jets. Nico supplied the reduction gears. North American Marine Jet supplied two azimuthing thrusters driven through ZF reduction gears on the inboard engines. CENTA supplied the carbon fiber shafting. There are two 333kWe MTU Series 60 ships service generators. Wartsila provided the propulsion controls and MTU provided an MCS-5 Type II machinery alarm and monitoring control system. Bosch Rexroth designed the center module hydraulic lift cylinder hardware and the associated control system. Servowatch designed the pilothouse console stations and provided integration for the propulsion, navigation, communications, and emergency rescue components.

This unique collaboration between science, technology, and economics is founded on a desire to rapidly commercialize research investment. Future commercialization of Susitna technology for use in other marine transportation sectors could include; marine, ocean, and fisheries science; resource exploration and production; oil spill response in ice, response to climate change impacts and developing Arctic aids to navigation.