Alfa Laval Aalborg WHR Systems Ordered for UAS Fleet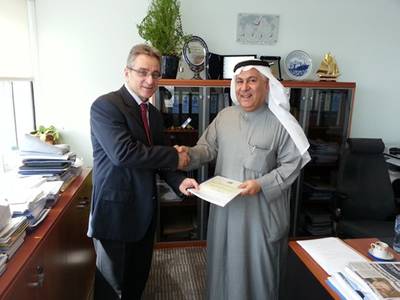 Alfa Laval Aalborg to supply XS-TC7A auxiliary engine waste heat recovery (WHR) economizers to all 48 ships in the United Arab Shipping (UAS) Company fleet.
With its small footprint and the lowest possible weight to output ratio, the Aalborg XS-TC7A economizer optimizes the use of waste heat from the auxiliary engine exhaust gases during voyage and port stays. When used in combination with a waste heat recovery system installed after main engine, the Aalborg XS-TC7A contributes to significant reductions in the oil consumption on the oil-fired boiler under most load conditions. Each unit will be specially tailored to the individual ship and engine design with due consideration to the existing uptake backpressure and other critical factors.
" United Arab Shipping Company expects the highest standard of supply and service from Alfa Laval, and their technologies contribute towards our company's mission to promote safety, security and environmental protection both at sea and ashore," notes Mr. Naif Al Khalidi, Vice President, CPCD, at United Arab Shipping Company.

"This order confirms the ship owners' increased focus on environmental protection and interest in realizing fuel cost savings from smart solutions using the available waste heat onboard," says Hans-Henrik Jensen, Vice President, Marine & Diesel Division, Alfa Laval. "Ship owners know and trust that Aalborg waste heat recovery systems for use after the main engines save money and reduce emissions. We now see a growing tide of ship owners like United Arab Shipping Company interested in capturing waste heat from auxiliary engines and placing their trust in the Aalborg XS-TC7A."
Alfa Laval say that delivery of the units is scheduled for later this year.

Aalborg XS-TC7A Main Unit