ADSB and RR Set up Waterjet Support Service Center in Abu Dhabi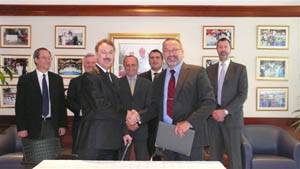 and Rolls-Royce Marine Middle East announced an agreement to set up a Waterjet Center of Excellence in to provide support services to its customers in the Arabian Gulf Region.
ADSB is the only naval shipyard in the , providing both build and support services for all Gulf Co-operation Council (GCC) naval vessels. Rolls-Royce will work with ADSB to offer services such as training, maintenance, repairs and overhauls, spare parts and service contracts for waterjet customers. These services can also be offered to Commercial Ship Owners operating vessels that have waterjet propulsion.
Rolls-Royce has already provided waterjets for 12 x 24m Ghannatha class boats and 4 x 26m Fast Supply vessels built by ADSB for the UAE Navy and UAE Coastguard. Rolls-Royce Waterjets also help power the six 72m Baynunah Class Corvettes that ADSB is currently building for the UAE Navy.
ADSB has recently announced their intention to set up a new joint venture company in with BVT Surface Fleet Limited to offer regional customers the complete range of naval support services and this new co-operation with Rolls-Royce will further enhance the services to be offered.