AFAI Launches New Cat Passenger Ferry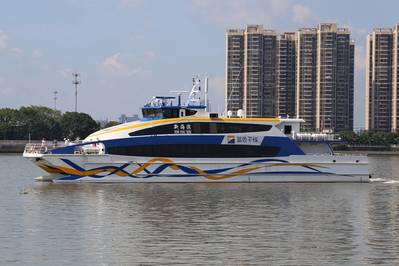 Chinese shipbuilder AFAI has launched a new 40-meter catamaran passenger ferry for domestic operator Zhuhai Fast Ferry Company.
The new vessel, named Xin Hai Bin, is designed by Australia-based Incat Crowther, whose relationship with AFAI dates back to 1982, when the yard built the first Incat Crowther ferries to enter service in China. In 2018, Xin Hai Bin is the 50th Incat Crowther-designed vessel for operation in China.
Xin Hai Bin is based on the Incat Crowther z-bow hull form used 2012's Hai Ju and Hai Yao. The hull was lengthened and a new modernized superstructure was built upon this platform, with two passenger decks and a raised wheelhouse. The modular approach, collaboratively developed between yard and designer, gave AFAI a competitive advantage in both cost and delivery.
Passengers board via aft gates and enter the main deck cabin. This deck seats 190 economy class passengers, bathrooms, luggage racks, pantry, service counter and crew room.
Central stairs lead to the upper deck, with seats for 59 business class passengers and 12 VIPs, as well as a dedicated service counter.
Xin Hai Bin is powered by a pair of MTU 16V2000 M70 main engines, each delivering 1050kW and driving fixed-pitch propellers. The vessel's Z-bow hull form exhibits excellent characteristics in rough water, whist giving the vessel class-leading efficiency.
Principal Dimensions
Length Overall: 40.5m
Length Waterline: 37.9m
Beam Overall: 9m
Draft (hull): 1.3m
Draft (prop or max): 2m
Depth: 3.5m
Construction: Marine grade aluminum
Capacities
Fuel Oil: 6,020 liters
Fresh Water: 1,090 liters
Sullage: 1,730 liters
Passengers: 260
Crew: 9
Propulsion and Performance
Speed (Service): 23 knots
Speed (Max): 27.6 knots
Main Engines: 2 x MTU 16V2000M70
Power: 2 x 1,050 kW @ 2,100 rpm
Propulsion: 2 x Propellers
Regulatory
Flag: China
Class / Survey: CCS ★CSA Catamaran HSC, Passenger A, Coastal Service Restriction