Long Voyage for Largest UK Aircraft Carrier Module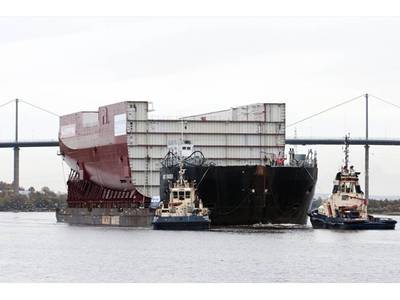 The largest section of future carrier 'HMS Queen Elizabeth' is now complete & embarks on 1,230 mile barge trip.

This gigantic segment - officially known as Lower Block 04 and weighing 11,300 tonnes - was towed on a barge down the Clyde on Sunday to begin a 1,230-nautical-mile (2,278km) journey around the south of England to Rosyth.

Originally the shorter route around the north of Scotland had been planned. However, bad weather in the north of the UK forced reconsideration and the route was changed to around the south of England and up to Rosyth through the North Sea.

Employees at BAE Systems' Govan shipyard, where the section was pieced together, and members of the public watched as a large seagoing barge carrying the aft section of hull made its way along the Clyde, past new destroyer HMS Duncan in the final stages of completion at Scotstoun, and under the Erskine Bridge.

Travelling around the south coast of England, the block - the final section of the hull to be finished - is scheduled to arrive at Rosyth early next week where it will be joined to the rest of the new aircraft carrier.