First on Forth for Alnmaritec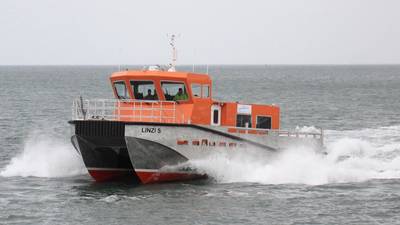 Alnmaritec announced the recent delivery of a new 50 passenger ferry to the Forth Crossing Bridge Constructors JV who are currently building the Forth Replacement Crossing over the Firth of Forth for the client, the Scottish Government.

The £790M new bridge will sit alongside the famous Forth Road and Rail bridges and will be 1.7 miles long, carrying two lanes of motorway traffic in each direction.

One of the highly successful Alnmaritec Wave Commander class, the newly delivered boat will be used to transport construction personnel from the jetty in Rosyth docks to the different working platforms during the course of the project, all year round. In addition to 50 passengers she carries a complement of two crew in comfort within the large one and a half height wheelhouse (providing excellent all round visibility from the helm position) which also houses a WC and storage areas.

The boat, named 'Linzi S' after the Marine Office secretary on the project is the first vessel in the U.K. to be built to the new Merchant Shipping Notice MSN1823(M) Passenger Craft Rules for Category D waters. She measures 16.3 x seven meters and is powered by twin Cummins QSC 8.3 litre engines driving fixed pitch propellers via ZF gearboxes, giving her a loaded speed of around 18 knots.