Alnmaritec Fast Patrol Boats to Yemen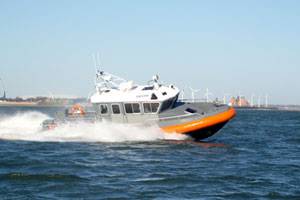 Alnmaritec Limited announced recently that it has supplied two new fast patrol boats for duty at an LNG export terminal in the Yemen. The two new boats will join three other Alnmaritec boats which are already operating at the terminal providing line handling and pilot services. The new Wave Protector class patrol boats are 39 ft long by 10.5 ft wide and are powered by twin Cummins QSB 480bhp engines driving Ultrajet 305 water jets giving them a top speed of 38 knots. The brand new design was developed in conjunction with Camarc Limited who have a wide range of experience in similar craft built all over the world and marks a first entry into this market sector from the innovative team at Alnmaritec.

The vessels are fitted out for a crew of four with a WC and a small day berth as well as a basic galley. They carry a Fischer Panda generator and high capacity air conditioning system as well as a sophisticated navigation and communications suite together with an array of more unusual equipment including a high power remote controlled water canon and a Long Range Acoustic Device to assist in their duties patrolling the exclusion zone around the terminal. They are fitted with a solid foam collar and this in combination with the double chine hull form were demonstrated on trials to have given them exceptional sea-keeping properties at high speed in rough weather (the trials were carried out in the North Sea in January).