Maersk Line Celebrates 5th Anniversary of Fuel Switch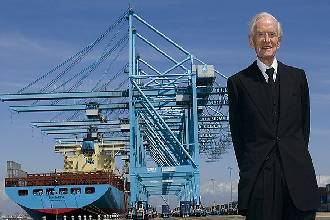 4100 tons of emissions savings for the West Coast and Gulf areas

Charlotte, North Carolina (March 31, 2011) – On March 31, 2006, Maersk Line's SINE MÆRSK changed the course of low-sulfur distillate fuel use when she called Los Angeles. Five years later, this fuel switch has resulted in a 3700 ton savings in air emissions benefitting those who live and work in California. A 4100 ton savings in air emissions has been made in North America with vessels calling California, Tacoma, Seattle, Vancouver and Houston. There has been a 95% reduction of sulfur oxides (SOx), and a 6% reduction in nitrogen oxides (NOx) and an 86% annual reduction in particulate matter (PM) with the 1970 vessel calls completed by the 188 participating vessels. At a cost increase of about $20 million, 60,000 metric tons of low sulphur fuel has been used to date. The fuel program started as a pilot as part of the company's ongoing commitment to environmentally responsible operations.

"In 2006, Maersk Line took an unprecedented step to reduce vessel air emissions by voluntarily converting to a less polluting marine diesel fuel in our main and auxiliary engines in California ports," said Dr. Lee Kindberg, Director Environment and Sustainability for North America. "We are proud of these results and our contribution to improving port area air quality. Sustainability is increasingly important in the board rooms of our customers, as well as in our own. Customers are looking at the environmental impact of their supply chains," she continued.

Maersk Line switches from bunker fuel with relatively high sulfur content to Marine Gas Oil on the main and auxiliary engines while underway in port areas and in the auxiliaries while in California ports and in Houston, and in auxiliary engines while at dock in Tacoma, Seattle and Vancouver. The fuel switch enables ports to achieve immediate emissions reductions, unlike shore-side power programs such as cold ironing that take years to implement on this scale.

Maersk Line's sustainability strategy pledges to reduce SOx emissions significantly around ports, driving towards 'zero'. The shipping line has committed to implementing fuel switch programs in at least 10 global locations by 2015. Hong Kong and New Zealand are the latest fuel switch programs to be implemented by Maersk Line and the first voluntary programs outside of North America.

"Congratulations to Maersk Line on this anniversary. You are the environmental leader in the shipping industry. Your commitment to using new technology has made a positive difference in California's air quality," said California State Senator Alan Lowenthal.

"Maersk stepped out before everyone else and showed others in the industry that the use of low-sulfur fuel could be done," said Port of Los Angeles Executive Director Geraldine Knatz, Ph.D. "That leadership was key and has played a significant role in helping us reach and exceed our Clean Air Action Plan goals."

"Thanks to the commitment of Maersk Line, Californians who live in coastal communities and around our ports are breathing cleaner air today" said Mary D. Nichols, California Air Resources Board Chairman. "Maersk deserves the recognition it has received for its trailblazing decision to voluntarily seek out the most environmentally responsible fuels to minimize the impact of its ships on our vulnerable coastal areas."

Maersk Line has received numerous awards for these efforts including the Clean Air Excellence Award from the San Pedro Bay ports; the Clean Air Award for the Advancement of Air Pollution Technology from the South Coast Air Quality Management District; the Clean Air Leadership Award from the Coalition of Clean Air; the Carrie Chapman Catt Leadership Award from the League of Women Voters of Los Angeles and Gold designations in the Port Metro Vancouver Differentiated Harbor Dues Program and the Seattle Green Gateway program.

Source: Maersk Line